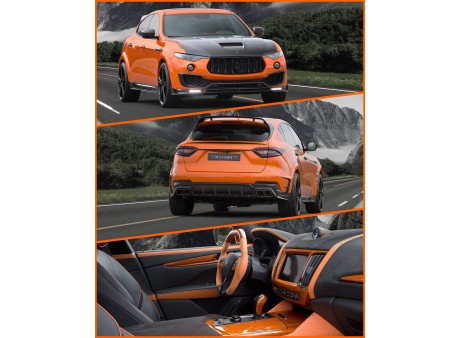 Mansory Adds Bold Styling and Individuality to the 2017 Maserati Levante
A Guide to Automotive Aftermarket Customizations for Luxury Vehicles
Mansory is a German based vehicle modification company that has a world renowned history of spectacularly customizing cars, SUVs, supercars, exotics and luxury motorcycles. Masonry's specialized customization prowess has met many extravagant automotive brands including Porsche, Bentley, Rolls Royce, Ferrari and Aston Martin. Already exquisite in their own right, one may be reluctant to customize any of these sophisticated vehicles after leaving the showroom floor. While this is true, "aftermarket" modifications are not necessarily a reflection of the vehicle, they're a reflection of the vehicle's owner. On that note, Mansory has skillfully honored the integrity of the manufacturer's specifications while unleashing the Maserati Levante's interior and exterior aptitude. 
Maserati's beautifully manufactured 2017 Levante SUV is both exotic and audacious, delivering uncompromising comfort and performance. Mansory has judiciously modified this already stunning vehicle to truly become an exotic one of one. Among Mansory's many enhancements include a noticeable two tone burnt orange and matte black paint job, a color scheme which is consistent throughout the vehicle's interior. Additional automotive aftermarket customizations that Mansory has incorporated include: 
- A new wide body kit featuring a menacing new grill that delivers both aerodynamics benefits and a more visually aggressive stance
- A pronounced front lip with side flaps and integrated LED daytime running lights - adding functionality and styling which inspire late night cruising
- A new front splitter – an essential aerodynamic component that serves to balance front versus rear distribution of downforce
- A new rear diffusor - providing increased stability – that is finished with a set of angular end pipes
- Matching roof spoiler and rear spoiler with expanded wheel arches, all adorned in carbon fiber
- Mansory's GTurismo light alloy custom wheels perfectly compliment the overall refinement of this modification featured in a Diamond Black and Diamond Silver finish. Custom wheel sizes are featured in a staggered fitment of 22x9 rims in the front and 22x10.5 rims in the rear, complimented with ultra-high performance tires. In keeping with the notion of available options to customize one's vehicle, another viable custom wheel option includes the all new "S200H", an HRE Forged Custom Wheel from their Series S2H collection. HRE performance wheels offers a variety of stellar custom wheel options for Maserati custom wheels and delivers uncompromised attention to detail designed specifically for supercars, sports GTs, performance sedans and SUVs.
Whether someone appreciates the styling enhancements that Mansory has deployed for the Maserati Levante is NOT the point. The point, friends, is to work with an automotive aftermarket customization expert, like Allure Custom Automotive, to perfectly integrate your personal style with that of the manufacturer's OEM styling. Exploring all available options, expressing individuality and defying status quo – that is the point. Perhaps your style is less intrusive and attention grabbing than what Mansory has revealed; perhaps you'd prefer an all-black matte finish with unassuming yellow accents (or blood red accents or royal blue accents). The key is, no matter what your personal style or driving preferences – know what your customizations options are and step across the line of being exactly like everyone else, to being exactly like no one else.
Christopher Abrams has been employed with Allure Custom Automotive since 2007 and is the Director of Sales and Social Media Marketing at AllureCustomAutomotive.com; an avid automotive industry enthusiast Christopher has over 27 years' experience in the automotive industry.